What Do You Want For Christmas?
It is that time of year when people excitedly write their lists to Father Christmas, hoping and praying to get the gift of their dreams. Gifts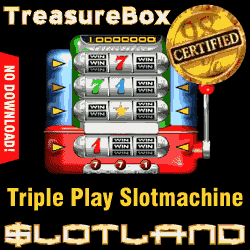 come in all manner of forms but what about a cheque for $207,214, does that sound like a nice Christmas present?
One lucky punter known only as Henry W has just received such a Christmas present after winning the jackpot on one of the oldest and most popular slot machines in the business – Treasure Box.
Treasure Box is a three-reel, four-pay line style slot machine and it features a bonus system called The Treasury. Incredibly this is the fourth time that Treasure Box has had The Treasury hit resulting in a six-figure pay out.
"I had been taking a break from gambling like I do every once in a while but then I saw about this new Fruitamania slot so I had a try at that," said Henry W. "When I saw that jackpot go so long I thought someone had to win it soon and it might as well be me. Of course I never really thought it would be me but you never know."
Although it was the lure of the Fruitamania slot that pulled Henry W away from his gambling sabbatical he also had a go on some of the old favourites while he was playing, and this is how he hit the jackpot on The Treasure Box.
So what will Henry W be buying this Christmas? He is going to buy himself a nice new sports car and also spoil his kids.